Titanium Flat Tip Dabber - XcentriX Designs Artisan Series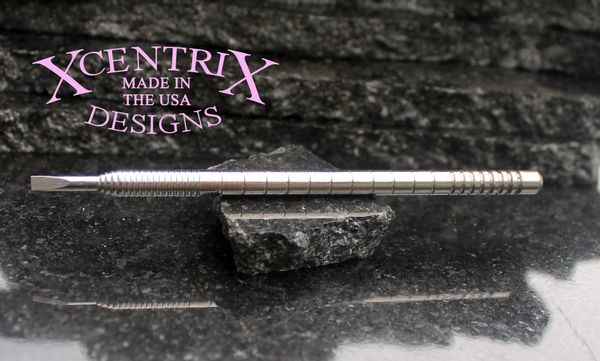 Titanium Flat Tip Dabber - XcentriX Designs Artisan Series
Titanium Flat Tip Dabber - XcentriX Designs Artisan Series
This Dabber is hand machined from Grade 2 Titanium.
The optional base is hand machined from Grade 5 Titanium.
Titanium dabber 3/16" x 4" long and features a flat tip.
The dabber is completely machined from head to toe then given a high polish making the set an elegant piece of artwork and an amazing conversation piece. It's the type of gift that is not soon forgotten.
Great for loading concentrates.
Dimensions:
Dabber
4" LONG
3/16" DIAMETER
Base Option
1" INCH TALL
3/4" DIAMETER
TOP HOLE BORE 5/16"x1/2"
Note: Being that it is hand cut lengths are approximate
Materials:
Dabber: Grade 2 Titanium
Optional Base: Grade 2 Titanium
PROUDLY HAND MACHINED IN THE USA!
S&H:
All shipments are sent discretely in a plain box or plain bubble pack envelope
Shipping is via USPS First Class Package with tracking (2-5 day service)
International buyers pay applicable shipping cost for first class international.
Reviews