Titanium Cup Tip Multi-Dab-Dabber - XcentriX Designs Artisan Series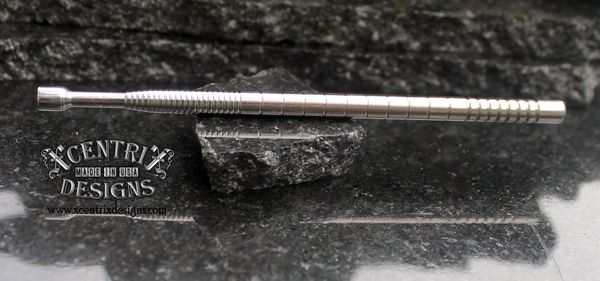 Titanium Cup Tip Multi-Dab-Dabber - XcentriX Designs Artisan Series
Titanium Cup Tip Multi-Dab-Dabber - XcentriX Designs Artisan Series

The Titanium Cup Tip Multi-Dab-Dabber was designed for multiple dabs or one prolonged dab from one load up of your concentrate. The end of the dabber is hollow allowing you to scoop up material and fill the small cup on the end. As you dab, you run it around the edge of your nail or domeless and as the dabber heats it releases your essentials, a couple taps produce amazing results. If you stop dabbing, the leftover oils will stay inside the dabber tip for the next person. It heavily reduces waste, and reloading the dabber. Once you try it you will like it.



This Dabber is hand machined from Grade 2 Titanium.
The base option is hand machined from Grade 5 Titanium.
Titanium dabber 3/16" x 4" long and features a pointed tip.

The dabber and optional base is completely machined from head to toe then given a high polish making the set an elegant piece of artwork and an amazing conversation piece. It's the type of gift that is not soon forgotten.
Great for loading concentrates. This set is very cool.


Dimensions:
Dabber
4" Length
3/16" Diameter

Base Option
1" INCH TALL
3/4" DIAMETER
TOP HOLE BORE 5/16"x1/2"
Note: Being that it is hand cut lengths are approximate


Materials:
Dabber: Grade 2 Titanium
Optional Base: Grade 2 Titanium
PROUDLY HAND MACHINED IN THE USA!
S&H:
All shipments are sent discretely in a plain box or plain bubble pack envelope
Shipping is via USPS First Class Package with tracking (2-5 day service)
International buyers pay applicable shipping cost for first class international.
Reviews