14mm 100% Titanium NON-THREADED Adjustable Nail 2-Piece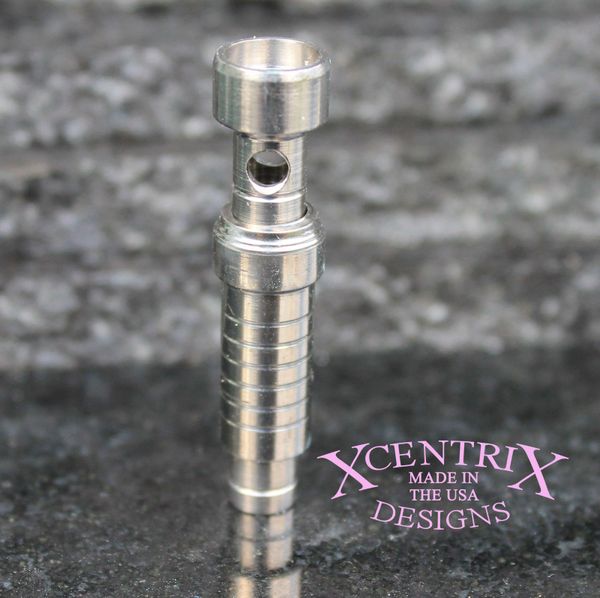 14mm 100% Titanium NON-THREADED Adjustable Nail 2-Piece
14mm 100% Titanium NON-THREADED Adjustable Nail 2-Piece
This adjustable nail is hand machined from Grade 2 Titanium. The Titanium round stock is produced in The United States to insure the purity and quality.
The Adjustable comes with an adjusting tool, When you set it to the desired height, the nail acts as if it is 1 piece of Ti, a quarter turn of the tool and you can slip the pieces apart for adjustment or cleaning. It's thread-less design makes for a more elegant conversation piece. This new design allows us to enlarge the center bore hole for even better air flow thru the nail.
Our nails all internally vent keeping the glass dome connection much cleaner so your dome doesn't glue itself to the 14mm glass male fitting on your rig. Each nail is individually custom machined so every one is unique.
The nail is designed to fit any oil rig with a 14 mm connection for the dome. The body of the nail is machined out of 2 solid pieces of titanium rather than being made from thread rod with a machined nut on top.
Our design creates a thermal barrier from the head because it vents through the center of the nail. This design makes it easier to heat and the heat doesn't transfer down the threads keeping the top hot longer. It also keeps the neck of your rig cleaner and reduces crazing on the glass.
Each piece is hand machined.
Included:
1 - Two-Piece 14mm Titanium Adjustable Nail
Dimensions:
Adjustable Nail:
Approx. 2 Inches Long
Materials:
Two-Piece Adjustable Nail: Grade 2 Titanium
PROUDLY HAND MACHINED IN THE USA!
S&H:
All shipments are sent discretely in a plain box or plain bubble pack envelope
Shipping is via USPS First Class Package with tracking (2-5 day service)
International buyers pay applicable shipping cost for first class international.
Reviews